Join us at K2016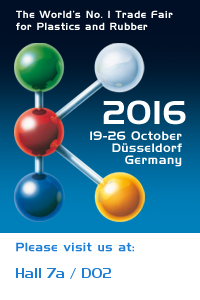 Since 60 years K fair have been one of the most important and trade fairs of plastics processing industry. Organized every three years, lasting eight days, K fairs gather industry leaders, the best engineers, chemists and researchers. This year K fair are ready to go again. Once again companies will present their latest products, technologies, innovations and as K fairs create a perfect decision-making platform for investment.
K fairs are the largest plastics fairs in Europe and one of the largest worldwide. The last – 2013 edition gathered 3 320 exhibitors from 59 countries and over 218 thousands visitors from 108 countries. This year bigger numbers are expected. The increasing interest in K fairs clearly demonstrates good condition of chemical industry and other industries closely related with it.
Grupa Azoty ZAK S.A. will take part in the K fair for a fifth time. At a joint stand of company Grupa Azoty we will present our OXO Segment, including OXO alcohols and plasticizers. Particular emphasis will be put on our new non-phthalate plasticizer Oxoviflex®. We hope that our stand will attract great interest among the visitors.
Join us!
Leaders in production of OXO products
We are one of the European leaders in production of OXO alcohols and plasticizers. We are recognised as the highest quality standard on the OXO market. We are flexible and ready to adjust to needs and requirements of our demanding customers. Over the years we have gained renown and reputaion of major market player in Europe and overseas. We are Oxoplast®, We are Grupa Azoty.
Where to find us
Discover OXO Segment
OXO Alcohols & Aldehydes
Discover our products
Plasticizers
About Grupa Azoty ZAK S.A.
Grupa Azoty Zakłady Azotowe Kędzierzyn Spółka Akcyjna is one of the largest chemical producers in Poland, being a member of Grupa Azoty. The company has a long tradition and respects human and social values. Its business operation is based on the two main pillars: nitrogen fertilisers as well as OXO alcohols and plasticisers. The company is the producer of e.g. the first Polish non-phthalate plasticiser called Oxoviflex®, a product awarded by the Polish Agency for Entrepreneurship Development with the prestigious title of the Polish Product of the Future. The mission of the company is to provide the highest quality products to customers. The offered range is intended for the following sectors: agriculture, construction, chemical processing and plastics industry. The company has its own co-generation plant, loading port and provides specialised laboratory services. It is also the owner and the main sponsor of the extra league volleyball team – ZAKSA Kędzierzyn-Koźle.
Contact us
Grupa Azoty
Zakłady Azotowe Kędzierzyn S.A.
Ul. Mostowa 30 A
Skrytka pocztowa 163
47-220 Kędzierzyn-Koźle
Woj. opolskie
tel.: +48 77 481 20 00
e-mail: zak@grupaazoty.com